Proxy benchmarking and performance monitoring
What does it mean?
Using proxy servers is crucial for thousands of Internet businesses. Proxy server is a foundation for various activities such as web scraping, ad verification, social accounts management, price aggregation and other.
Quality of your proxy services define performance of your business.
Our team uses thousands of proxy server from different proxy providers and our goal to constantly monitor all of them to see all essential metrics.
So, we've built this tool. You just add a proxy server hostname, port, user and password, and we start monitoring it 24/7/365.
This tool is crucial when you need to profile a new proxy trial access before you buy it, or to manage and monitor your existing proxies.
What metrics do you track?
— IPs, latency, uptime. We ping the proxy every 5 minutes. We collect all exit IPv4 and IPv6, median response time and ASNs. You will see metrics such as IP changes count, unique IPs, unique ASNs and other. Metrics grouped by day, week and month.
— UDP support. We check the proxy for supporting UDP protocol as it becomes more crucial to operate in modern web.
— Geolocation. We lookup each IP of the proxy using two independent geoip service providers for the best accuracy.
— OS fingeprints (p0f). We track history of all fingerprints that proxy had. OS, MTU, network type.
— Speed test. We test download and upload speed of the proxy over the time and show it on the graph.
Do you have a screenshot of your report?
Yes, we do have a screenshot. It's just a graph with pings, latency and IP changes.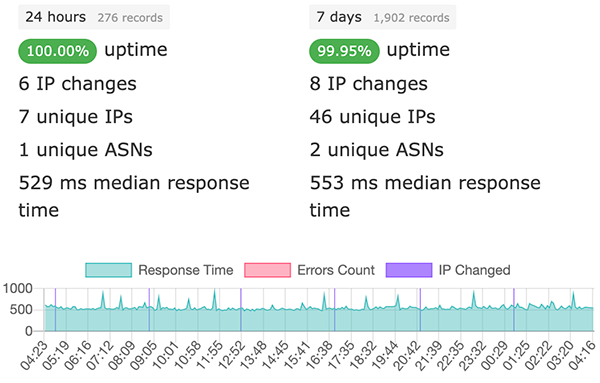 But it doesn't make much sense in general. It's just a picture.
Much more interesting thing is to see a demo of proxy report.
We've prepared a sample report based on some real proxy server. You can see all the metrics, graphs and statistics.
I wanna try!
Our service is completely FREE. Start using it today.
All you need to do is to sign up and add your proxy.
Sign Up →
More questions?